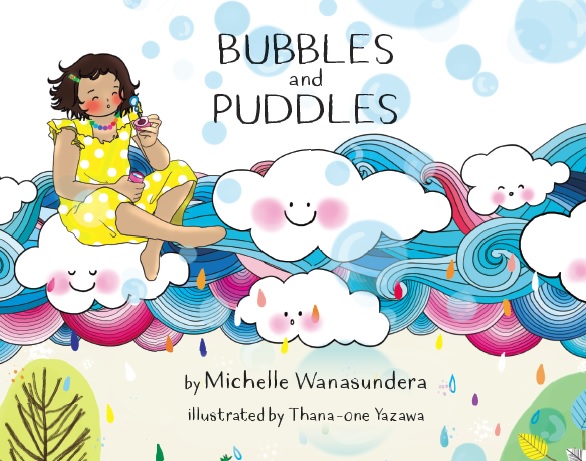 Bubbles and Puddles
Written by Michelle Wanasundera
Illustrated by Thana-one Yazawa
The aim of these stories is to nurture the imaginations of the special little ones in your life, be it your own children, or children of a relative or friend. They celebrate the simple joys of life, nature, getting lost in the wonder of the moment.
Ages: 4+
Format: Hardcover
ISBN: 9780648123804
Published: 2017
Bluebell Books is sold out of this item. To purchase a copy, please visit Michelle Wanasundera's website.
sold out
Michelle Wanasundera was born in Melbourne and now lives in the beautiful Blue Mountains with her husband and daughter and two very sweet finches. She has a love of nature and has studied psychology, philosophy and children's meditation – all of which naturally infuses her stories.
Michelle has been writing since she was small – letters, diaries and poems. It was only after writing stories for her daughter, Amali, that a real love for writing children's stories begun. Amali wanted them in a 'proper book' to put on her bookshelf, and that's just what she got in the form of Bubbles and Puddles, of which she is the star.
Michelle hopes that these stories bring joy and comfort to your children, as they have Amali.
Visit Michelle's website to learn more about Bubbles and Puddles.
Thana-one Yazawa was born in Bangkok, Thailand. She studied political sciences and has her second bachelor degree in interior design. Now, she is a freelance interior designer and children's book illustrator. Her passion has always been for illustration, and she loves to work with bright tones and cheerful colours.
Thana-one said: 'My work finds true value with the narration of Michelle Wanasundera. Her poetic text matches the imagination of my sketches, and takes the form of this wonderful book. Let's go on a new journey together in this colourful world.'